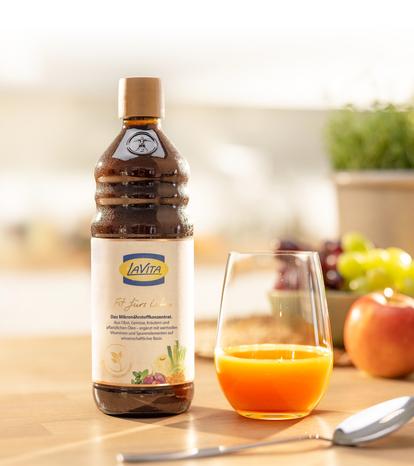 LaVita. Das Mikronährstoffkonzentrat.

Kostenloser Versand innerhalb der Schweiz

Im flexiblen Abo jede 8. Flasche kostenlos

Ergiebiges Konzentrat mit 50 Portionen je Flasche
Single delivery
500 ml bottle for 50 servings
je Flasche80 CHFnur 1.60 CHF pro Portion160 CHF pro Liter inkl. MwSt.
Single bottle(s) without shipping costs
No saving
No automatic delivery
LaVita sollte längerfristig angewendet werden. Wir empfehlen Ihnen von Anfang an unsere Servicelieferung.
Vorteile: Sie profitieren von der kostenlosen 8. Flasche und bleiben trotzdem flexibel – Sie können jederzeit ganz einfach kündigen, ohne Frist!
Subscription
LaVita on a no-obligation subscription
je Flasche80 CHFJede 8. Flasche kostenlos160 CHF pro Liter inkl. MwSt.; Durch­schnitts­preis nach Kauf von 8 Flaschen: 140 CHF pro Liter inkl. MwSt.

Jetzt einrichten
Every 8th bottle automatically free
Regular delivery, LaVita always automatically fresh in the fridge
Quantity and delivery interval as desired
You can pause or cancel at any time without needing to provide notice
You only ever pay for the bottles delivered
Save up to 12.5 %
Preisvorteil & regelmäßige Lieferung
7+1 bundle
One bottle gifted for free
LaVita at a glance.

Micronutrient concentrate from over 70 natural foods such as organic vegetables, ripe fruit, herbs and vegetable oils, supplemented with valuable vitamins and trace elements

Ideal for daily optimisation with all important micronutrients (vitamins and trace elements)

One 500 ml bottle is enough for 50 days (at one tablespoon per day)

Scientifically dosed micronutrients

Also suitable for children

Without genetic engineering, vegan, gluten- and lactose-free, without preservatives and other additives
Ingredients & nutritional values
No preservatives
No sweeteners
No flavourings
Gluten-free
Lactose-free
Vegan
Free of pesticides
Non-GMO
Preparation: LaVita not only tastes delicious, but is ready in no time at all - enjoy your portion in three easy steps:
50-100 ml Pour water into a glass
1 tablespoon of LaVita Add concentrate
Before drinking stir well
Shelf life & storage: LaVita is a natural product without any preservatives, and is not heated during manufacture. It is therefore important to put even the unopened bottles in your fridge right from the start. This way, LaVita keeps for about 5 months after you receive your delivery (best before date: see label). After opening, you should use LaVita within 70–90 days. We guarantee first-class freshness and quality within the best before date.
Our tip: With our subscription, you always automatically receive LaVita fresh and avoid space problems in the fridge.
